Your Holiday Popcorn Is Ready to Order | Poppped
Your Holiday Popcorn Is Ready to Order at Popped
Holidays just aren't the same without fresh holiday popcorn. That's why when you order popcorn from Popped, we make it fresh and ship it out right away.
Get Into the Holiday Spirit with Freshly Popped Gourmet Popcorn
Celebrate this holiday season with popcorn gifts for everyone on your shopping list. Holiday popcorn gifts make great gifts for everyone, whether they are coworkers, friends, or family members. And, we have a large variety of gourmet popcorn flavors to cater to anyone's tastes, including:
Movie Theater
Kettle Corn
Caramel
Caramel & Sea Salt
Caramel & Cheddar
Cheddar
Chipotle White Cheddar
Jalapeno Cheddar
Creamy Dill
Chocolate Dream
Dark Chocolate Cherry
Buffalo Ranch
Birthday Cake
Green Apple Cinnamon
Glazed Lemon Pound Cake
Why Choose Popcorn Gifts for Christmas?
Everyone on your Christmas list will love getting Christmas popcorn tins from Popped. These holiday popcorn tins come in decorative holiday containers filled with delicious, assorted popcorn. Popcorn is a seasonal treat that everyone loves, and we have the best gourmet popcorn available.
Who wants to run around shopping in busy stores during cold weather? If you're looking for a festive treat to spread good cheer, order a holiday popcorn tin online now. All popcorn is made to order and shipped within two days to ensure your popcorn is as fresh as it can be. Our popcorn is also GMO-free, and handmade.
How It works
Step 1: Make Your Selection
Start by choosing a holiday popcorn tin and the flavors of popcorn you would like to add to it.
Step 2: Place Your Order
After placing your order, we will get your popcorn popped and ready to ship, usually within two days. Spend over $50 and enjoy free shipping or you can pick your order up at our local shop in Newnan, GA, by choosing "local pickup" at checkout.
Step 3: Give to Your Recipients
Once you receive your festive holiday popcorn tins, you can start giving them out to whoever you choose.
Who We Are
Popped is a boutique shop based in Ashley Park, Newnan, Georgia. A place you can't miss when walking by since you instantly smell the savory aroma of freshly popped popcorn lingering in the air. Each day, we handcraft our gourmet popping corn in small batches and ship it out all over the world.
Be sure and stop by for a delicious sample of our freshly popped popcorn that will melt away all the stress of the daily drama in your life and make you smile. Reminisce about the good old days growing up with savory popcorn you once snacked on as a kid. When you taste our delicious popcorn, you will instantly be delighted as you see how much joy and love is put into making it.
The Cost of Our Popcorn Tins by the Gallon
If you are looking to order our gourmet popcorn for a group of people, consider our popcorn tins available in 1-gallon tins, 2-gallon tins, and 3.5-gallon tins.
1-Gallon Tins $29.99
Our 1-gallon tins are freshly packed with up to two flavors of your choice. They are ideal for the whole office as they serve 6 to 10 people.
2-Gallon Tins $49.99
Order a 2-gallon tin for parties of 10 or more people and get a holiday-decorated tin freshly packed with your choice of up to three amazing popcorn flavors.
3.5-Gallon Tins $59.99
This large popcorn tin is best for up to 25 people to snack on. It is filled with your choice of 3 flavors of freshly popped organic, non-GMO gourmet popcorn.
Order Your Holiday Popcorn Today
Don't miss out on great holiday popcorn, place your order now!
[Order Now]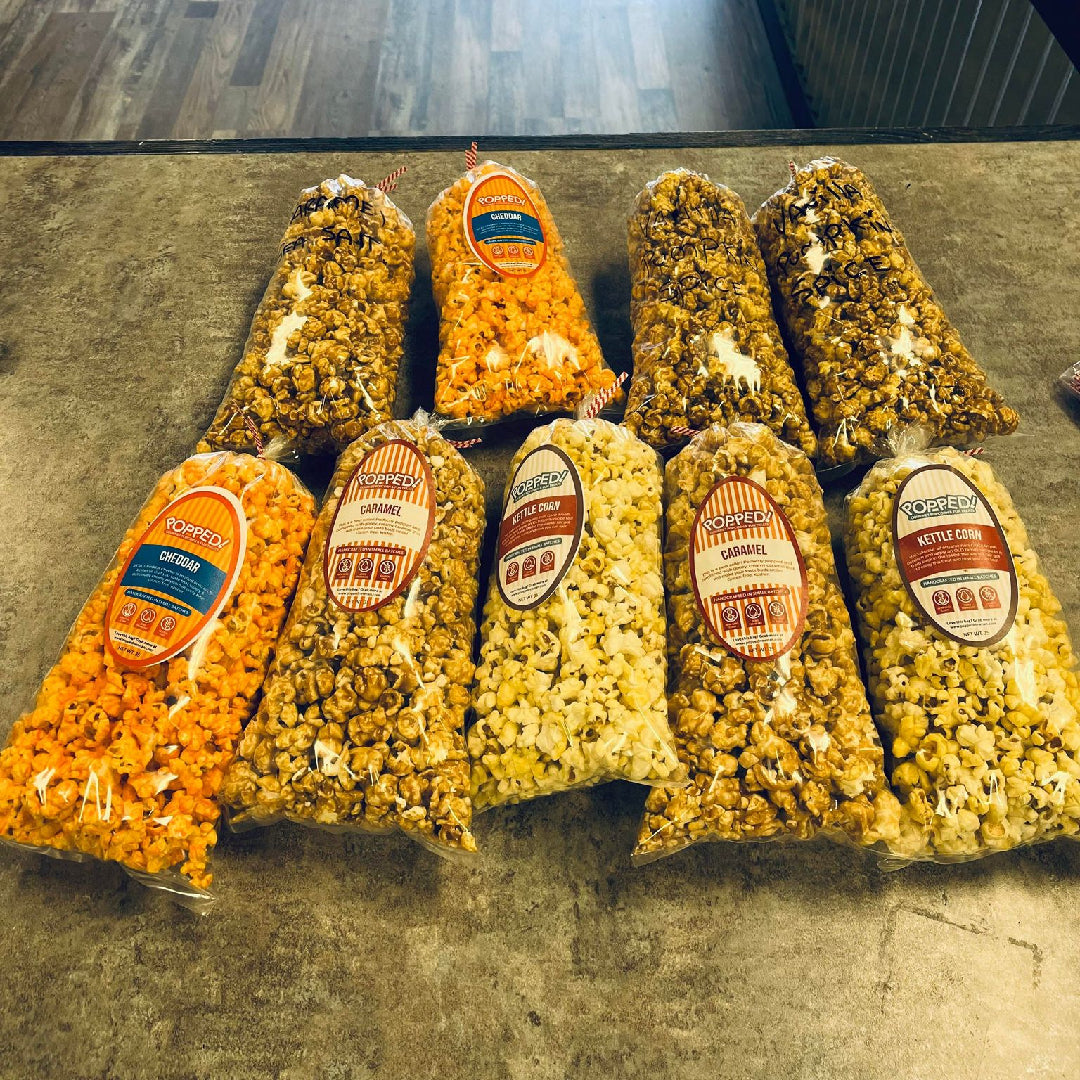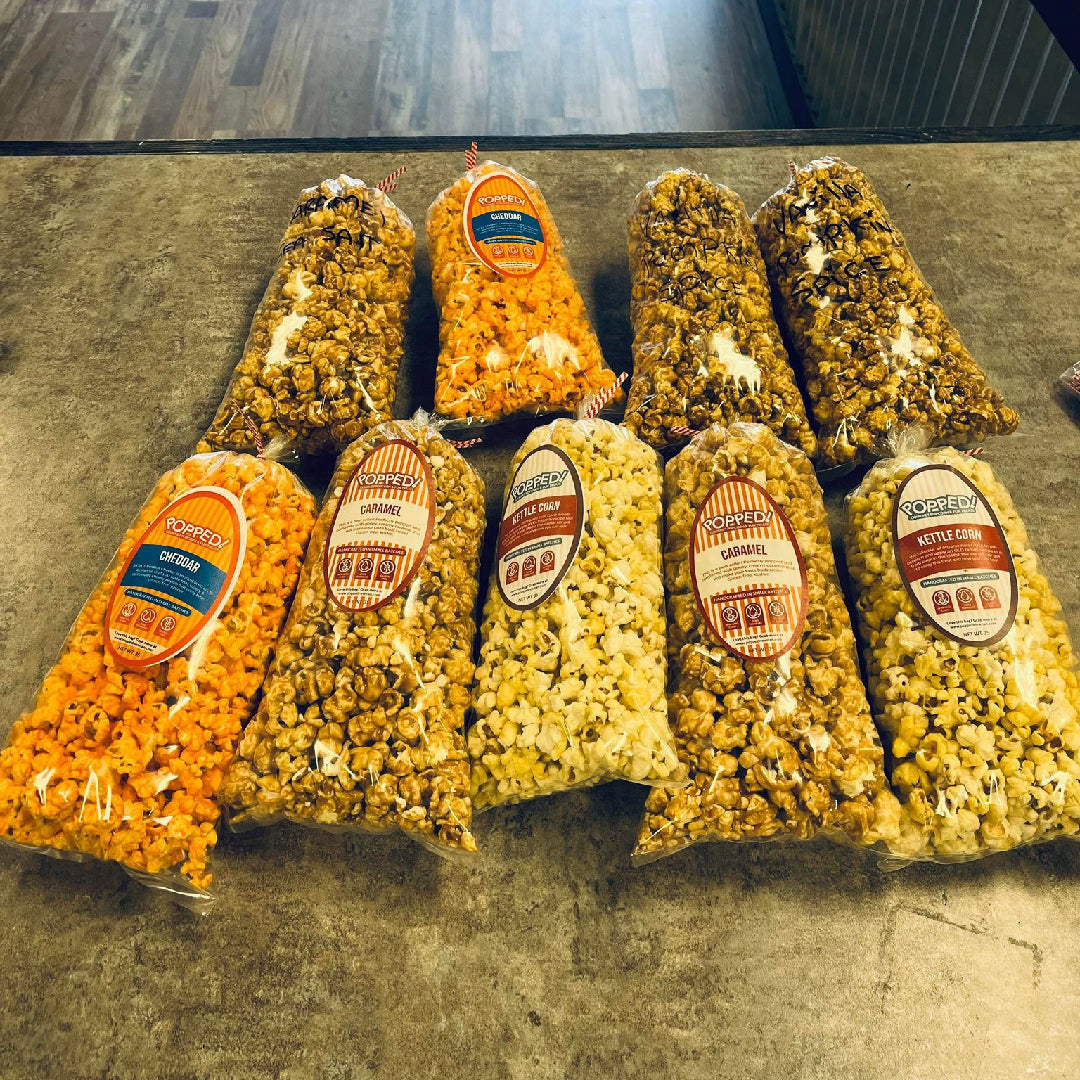 What Makes Popcorn a Great Thank You Gift?
Giving someone a popcorn gift is not only a great way to say, "thank you" but it's also ideal for showing your appreciation for a job well done. Popcorn is fun to eat, especially with a group of friends or co-workers, and who doesn't love how delicious it tastes? Gift popcorn always makes a good impression and creates lasting relationships with clients. At Popped we prepare our popcorn gift tins when they are ordered and ship them soon after, so you get fresh, great-tasting popcorn delivered to your door.  In addition, our gourmet popcorn is non-GMO and there are many flavors to choose from, including: Movie Theater, Kettle Corn, Cheddar, Caramel, Caramel & Sea Salt, Jalapeno Cheddar, Creamy Dill, Glazed Lemon Pound Cake, Cookies n Cream, Dark Chocolate Rum, Birthday Cake, AND MUCH MORE!
Take Advantage of Our Corporate Popcorn Gift Program
Our popcorn gift program can help build your brand and express your gratitude. It allows you to incorporate your contact information and company logo on a popcorn gift. And as an added bonus, our popcorn gift tins can be reused so the popcorn can be eaten later and still taste fresh.Our gift program includes the following:Volume discountsVarious branding options to fit any budget, including screen printing on lids, the body, or on both, and custom labels.A hassle-free process where you choose your favorite flavors, provide your artwork, then give us your address where you want your orders shipped, and we do the rest!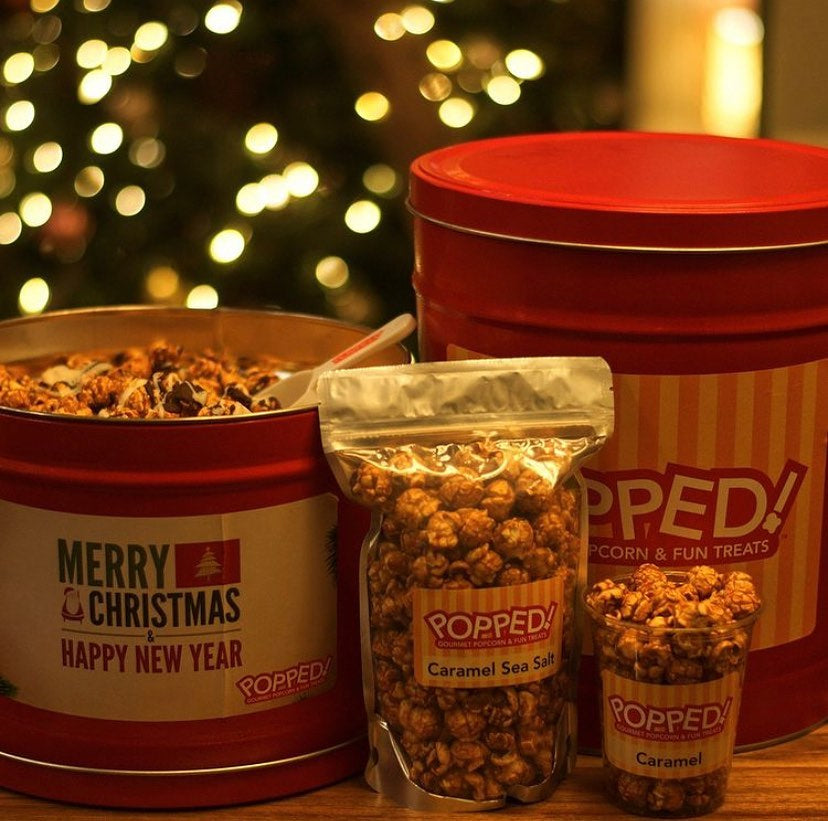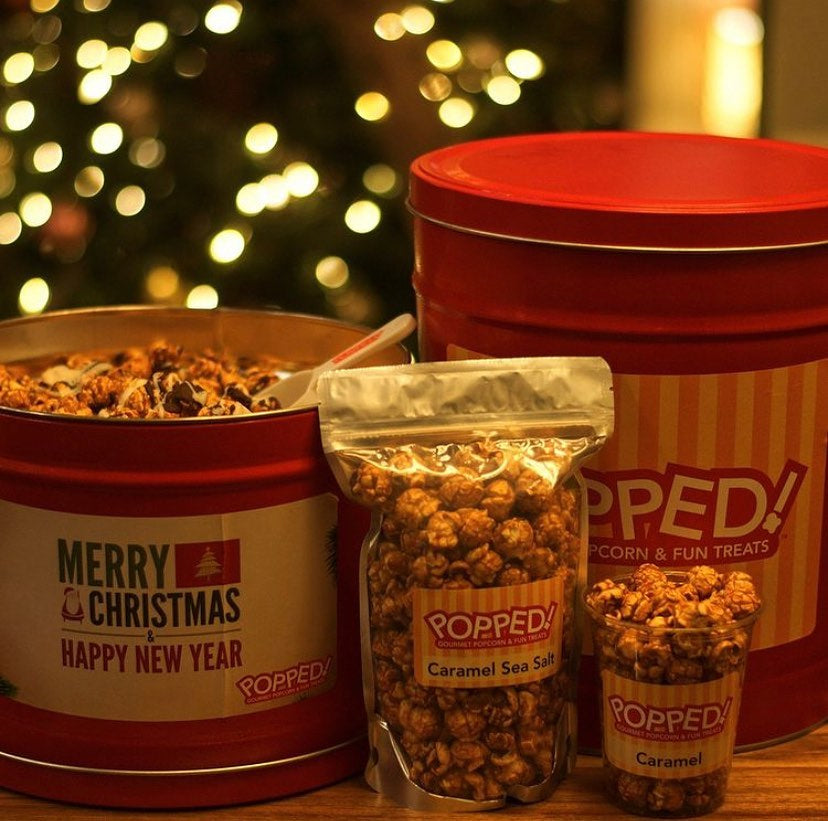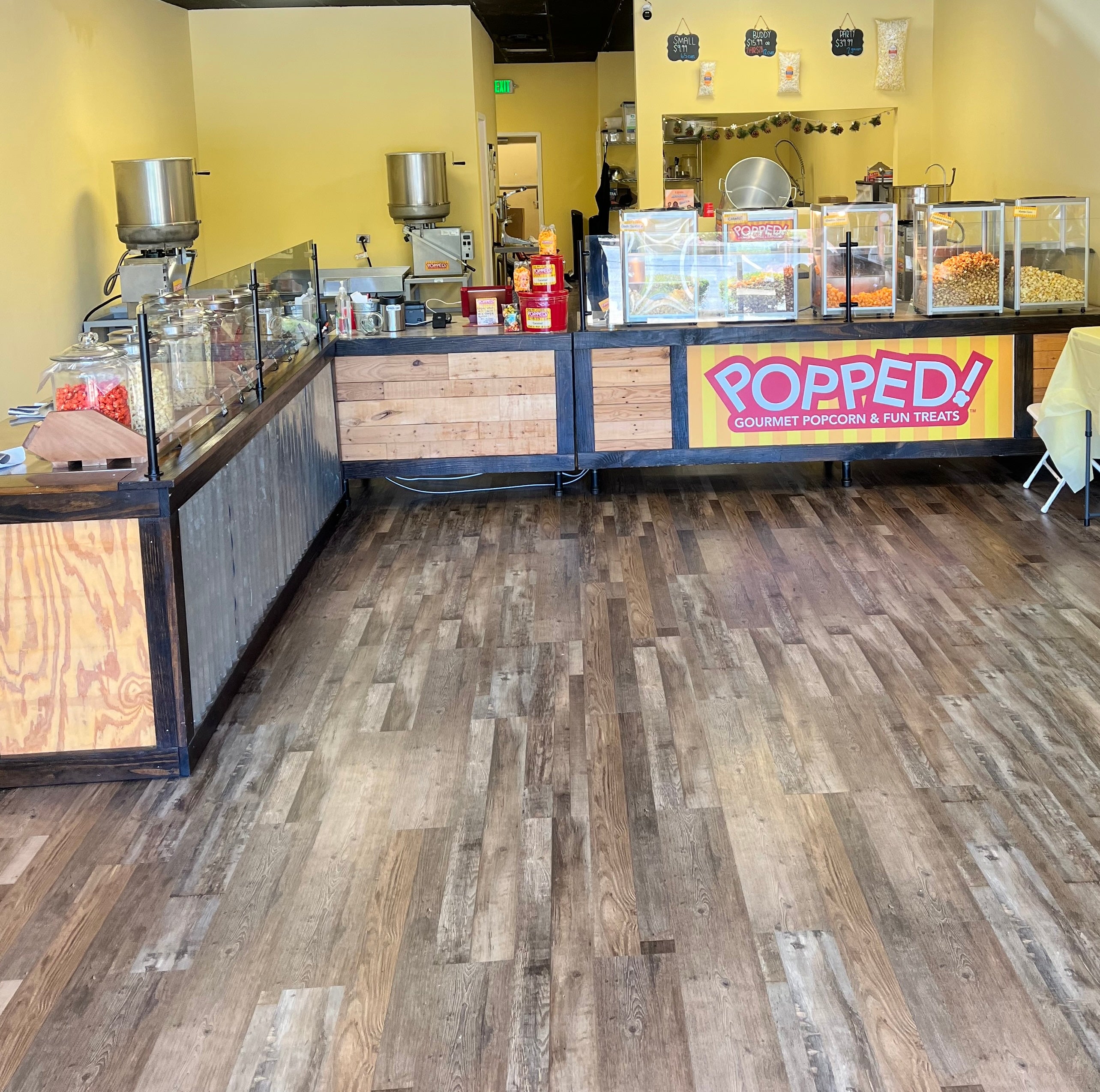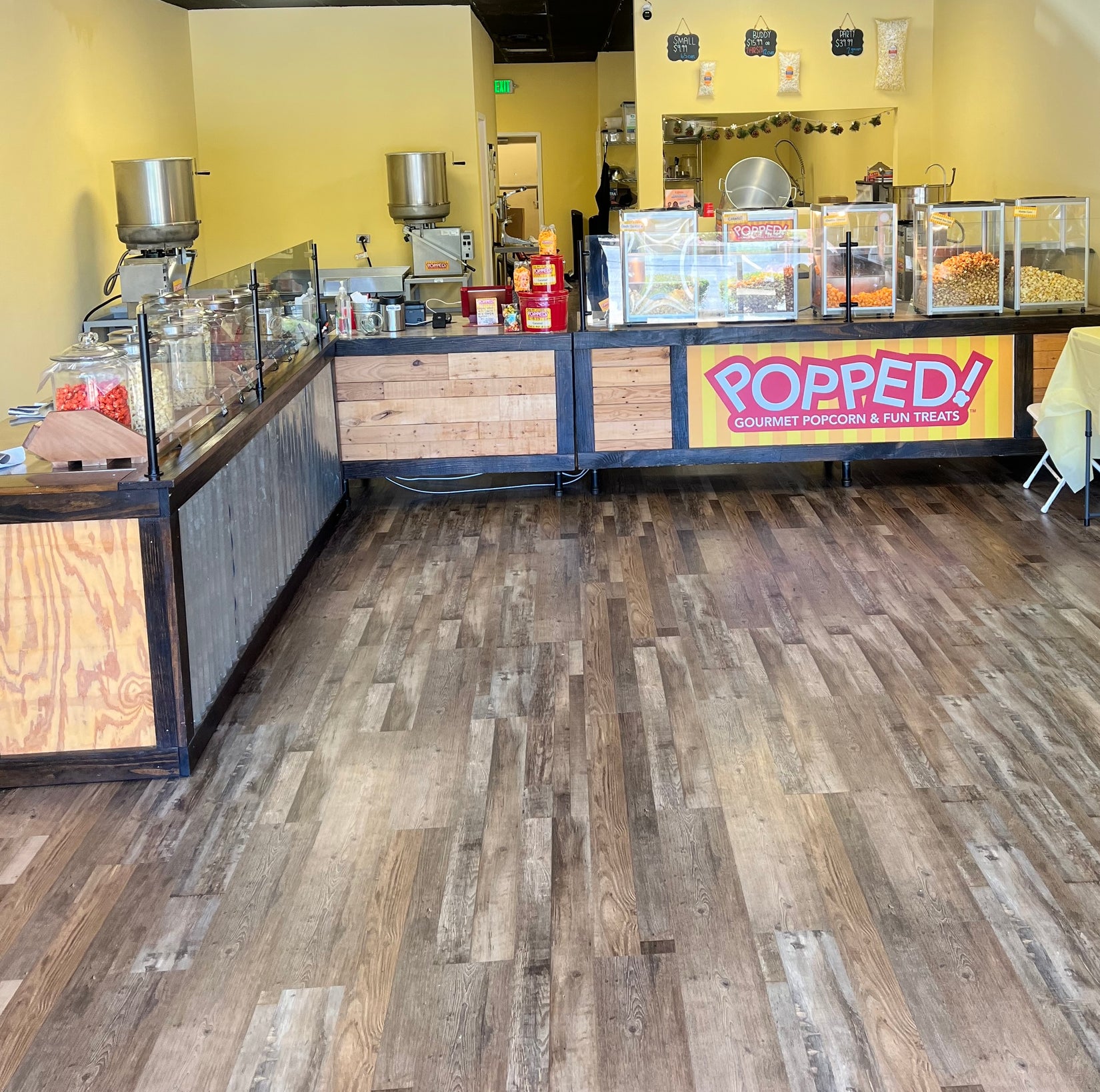 About Us
Our gourmet popcorn shop is located in Newnan, Georgia. As you step into our store, you'll smell the incredible savory scent of freshly popped popcorn that takes you back to your childhood. Our friendly popcorn artisans will guide you through our samples. We don't just cater to residents in Georgia. Our shipping services make it possible for everyone in the US to enjoy our delicious popcorn. Orders over $50 ship for free. We will stay in constant communication during the shipping process and ensure you receive fresh, gourmet popcorn. Besides striving to produce the best gourmet popcorn, our customer service is always available to meet your needs.